Regnessem Multi language version test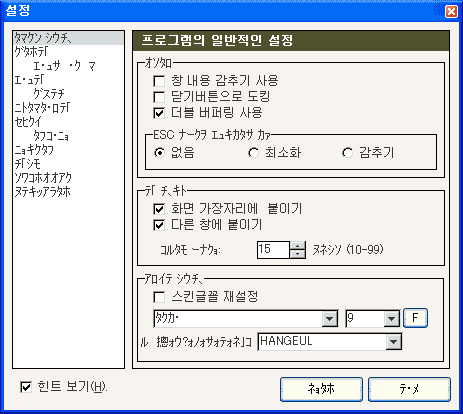 그 이전과는 다르게 문자셋 인코딩이 가능한 버전이다.
그런데, HANGEUL, ANSI, DEFAULT, OEM 한글이 사용가능하다고 예상되는 그 어느 셋으로 해봐도 위와 같은 모양으로만 나왔다.
I used Regnessem in HANGEUL, ANSI, DEFAULT and OEM character encoding, but there's a lot of not-translated text.
See above screenshot.
게다가 다국어 지원을 위해서 UI 가 너무 커져버린 탓인지 파일 용량이 무려 6배 정도 증가했다. 가벼운게 특징인 프로그램에 너무 불필요한 낭비가 아닐까 한다.
And SimpleUI.dll's size is larger than original's at six times.
Because I like simpleness of this program, the larger size is not attractive.
...라고 했는데 내 실수였다. -_-;;
스킨글꼴 재설정 부분을 표시해줬어야 되는데.... 우...
지금은 잘 된다. 새로 추가된 것의 키만 알아내면 될 것 같다.
... It's my mistake. I did not set the option "skin font overriding".
-----------------
휴... 안되는 영어라도 적어놔야 리포팅이 되는 관계로.... -_-;;